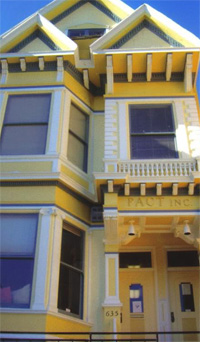 Founded during the Civil Rights Movement of the early 1960s, PACT, Inc. has grown and adapted to meet emerging needs across the Bay Area. We help young people achieve upward mobility by guiding them towards educational and training opportunities, and ensuring they are prepared to take advantage of those opportunities.
In 1963 it became very clear to local activists Everett Brandon, JD and Henry Lucas, Jr. DDS that San Francisco needed a "plan of action for challenging times." Working together with others in the Civil Rights Movement they began the process of changing the lives of African American youth across the City. They initiated one of the first federal Department of Education Talent Search programs on the West Coast, and increased the number of African American high school students prepared to enter and graduate from college. The young people participating in PACT, Inc. programs were prepared and qualified to take advantage of careers that were beginning to open to African Americans. They became the professionals who today provide leadership across the Bay Area and the nation.
With strong and continuing support from the federal government, PACT, Inc. has served 60,000 young people, placing approximately 36,000 students in colleges and other post-secondary institutions, most with financial assistance. Always focused on diversity and inclusion, PACT, Inc. expanded its programming in 2002 to meet the growing numbers of under-represented youth in the cities of Richmond and Vallejo. The organization has developed relationships, experience and curriculum for working with a diverse group of low-income young people – including English Language Learners – from across the Bay Area.
In 2016, PACT transitioned fully to the East Bay office after 50 plus years of serving in the San Francisco communities.